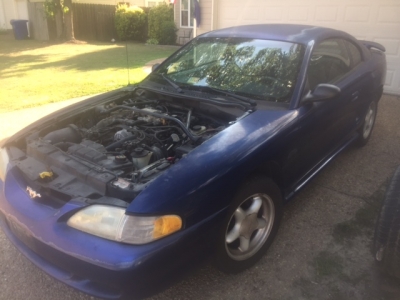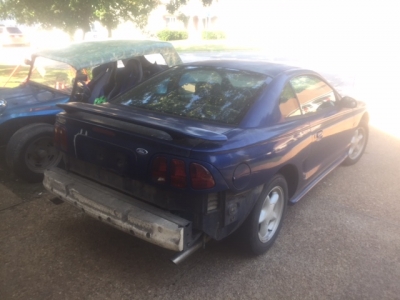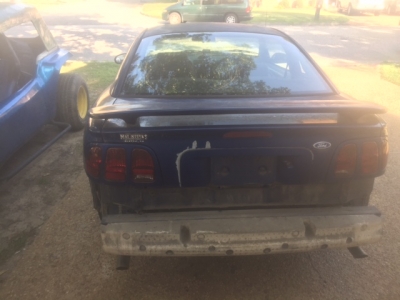 I don't generally go into things ill-prepared, but with the FFR build I just can't seem to find enough of the right information to make my decision on a donor car. I asked on the FFR forums, and even emailed FFR directly and was given the same basic information- you can use any mustang from 80s to 2004. Of course there are a handful of benefits for each year grouping, but there is not ONE specific model that works best for everything… except of course the fox body because of the axle width, but if you use the 5.0L out of the fox body then you don't get the benefit of the 4.6L. So, there you go, there is not a perfect donor car.. well actually, there is. The perfect donor car is the one you can find in the price range you're willing to spend.
After searching for 2-3 weeks, I've come to the conclusion that V6 mustangs are WAY too plentiful, and people selling them refuse to put V6 in the listing. I don't know how many people I messaged asking the same thing "Which engine, 5sp or auto?" Some of those people multiple times because they had multiple posts or because I lost track of who I had already contacted. I also came to learn that people that sell things online are terrible at responding to your contact request. It doesn't matter if you call, text, or email.. it takes too long for them to reply. I was also frustrated by TWO perfect donors that got away. One was a 1998 for $350 because it was wrecked (bummer) and a 2003 for $380 (also wrecked). I contacted both sellers and arranged to buy- the first bailed at the last minute because he had promised it to a friend that hadn't paid yet- so he was leaving it online, but the friend promised to pay the next week. The second arranged to see me on Monday and then sold it Sunday because someone offered him more. Next time I find "the perfect car" I'm going to have to drive over immediately.. no waiting, no wasted time negotiating.. just show up- cash in hand and buy it.
So, anyway- after losing those two cars I found a 1997 GT with 160K miles. It was about an hour away- and it only took a few minutes to check it out and decide it would do fine. It turned out though it was too nice. The car fax showed only two owners, the inside was OK (but salvageable) and the body was nearly perfect. The only thing this car was missing to make it a nice mustang again was a paint job, and O2 sensor. I brought my (almost) 13yr old with me to buy it- and he fell in love with it.. Dad, Dad.. can't we just fix this up for my first car.. "Wait a second".. "I never promised to buy anyone a car- and certainly not a 280hp mustang for a first car.. are you crazy?" But, he was right- it was a shame to tear apart such a nice car. Since I paid hardly anything for it- AND I've been wanting to try out my hand and painting again- after learning all the lessons I learned from my Dune Buggy painting- this looks like a perfect solution. Best case I do a really good job painting it and I resell it for a few extra bucks to put toward my build, second best- I screw up the paint job and pay someone to redo it and hopefully break even, or worst case I lose the money I put into painting it- and end up tearing it apart. Since I don't need the engine anymore I'm pretty sure I could pull the engine/tranny and sell it for at least what I have into the car right now.. so I don't think I'll lose out in the end.
Here's something those going the donor route may be interested in knowing. The gears in the driver's seat that allow it to go back and forwards are notorious for going out- making the seat unable to move anymore.. If you have a mustang and need to fix it, there is a place
2Men1Garage
(http://www.2men1garage.net/Ford-Mustang-1994---1998-Parts.html) that sells a replacement gear set for $89.. but it does take some modification to make them work—so many people will just opt to buy a whole new seat assembly off ebay for $250. Here's where you can make a little money if you are scrapping your donor.
1) Sell the entire seat (if it's in good condition)..
2) If the motors and gears work- sell the entire assembly
3) Purchase the rebuild kit (assuming yours are bad), rebuild and then sell the assembly.